What is Sweaty Sheep?
What is Sweaty Sheep?
|
FAQ
|
Who We Are
What is Sweaty Sheep?
  I've never been a "churchy" guy ( that may be the understatement of the year.)   So several years back, while attending seminary, I decided to heed my call away from the stained glass sanctuary and seek out the deeper meaning of Worship.  I stopped seeing "Church" as a place and instead embraced it as a people.   I grew weary of trying to understand and explain God and started seeking new means of experiencing God.        
Sweaty Sheep Ministries, with its belief that the best means of spiritual growth comes through our ability to match our passions and play with relevant faith teachings and fellowship, was the answer.  In our particular community that passion was rooted recreation,
Yes, this is a Christian group… however, one that embraces doubt and questioning, so we welcome (and grow alongside of) all religious traditions and do not push any one belief (because we don't claim to have he faith thing all figured out!)  Recreation has the unique ability to break down Spiritual Barriers that we have constructed over the millennia and allows us to experience God rather than limit God through names and labels. 
We hold strong to the belief that core belief that worshiping and/or knowing God is only possible through our experiencing God, and as a community we understand that does not always happen in a church pew!
Our program is fully inclusive and lifts up our uniqueness as individuals.  Following the Indonesian philosophy of "unification through Diversity," we embrace the various views and experiences each of us bring to the table… because we all grow and learn through one another.  Furthermore, our individuality demonstrates the need for each person to seek and develop their own personal, and indeed "unique," relationship with God.
Our services and outreach opportunities aid in this by providing safe places to grow, relevant worship and mission opportunities that facilitate the development of each individual, and a community of individuals with similar passions of which to travel in fellowship with.  Sweaty Sheep helps to make religion not only relevant, but fun, emphasized through our motto of "re-Creation through Recreation," and we truly believe that play is an essential component of spiritual growth. 
              -Pastor Ryan Althaus
What is Sweaty Sheep? Think about it this way:…I wonder when,
in the course of the Christian experience,
we decided that church,
that worship,
meant sitting still?When did we decide that faith
was a passive experience?

If you believe that worship is movement,
in the acting out of our faith
through a mixture of service and play,
then maybe you are a
Sweaty Sheep.

If you connect with God
through laughter and activity,
through hiking a trail as well as sitting in a pew,

…if your understanding of 'baptism' is the crest of a crashing wave
then maybe you are a
Sweaty Sheep.

If you believe that God is bigger than a name and calls us
to squeeze every ounce out of life,
smell every flower,
and dance every chance we get,
then maybe you are a
Sweaty Sheep.

We invite you to join the flock and be part of a
spiritual MOVEMENT,
through which we actually MOVE.

There is a certain fellowship built through sweat, through play, some healthy competition, and a celebrated diversity. We embrace the Christian faith, but without neglecting the beautiful wisdom of all faith traditions…

We believe that no one tradition has things all figured out and we pursue the path of a guy who turned water to wine, hung out withbthe homeless, and called out the hypocrites!  A friend who shone with a rich and nondiscriminatory love, who stepped out of boats onto the water, and knew how to find meaning in this life (though giving his so we could live ours…

We believe theres a difference in being alive and living life.   We chose the latter!

Lucia Capocchione states:

"Play keeps us vital and alive. It gives us an enthusiasm for life that is irreplaceable. Without it, life just doesn't taste good."

We are under no false presumptions that a church has walls. Some churches do have walls and that is fantastic; beautiful things happen inside those walls and in those pews. But we certainly do not restrict the "Christian practitioner" to a certain gender, race, orientation, etc. As well we do not restrict our personal capabilities to any mortal standards. If God Created us, God is certainly capable of being the judge, we just need to love.
Is Sweaty Sheep a church? What denomination?
Yes, Sweaty Sheep is a church. A church isn't a building, but a group of people who have been called by God for a purpose.
Sweaty Sheep is supported by the Presbyterian Church (USA); however, we partner with a variety of churches and denominations and do not put any particular denominational label on our community.  No matter what denomination or religion you belong to – or if you don't belong to any at all- your welcome here!
How do I get involved?
For starters, join our email list! We send out monthly E-pistles, our version of a newsletter. Check us out on Facebook to look out for upcoming Sweaty Sheep events, or use the link in the menu above to subscribe to our Facebook announcements for non-Facebook users.
What community outreach programs is Sweaty Sheep involved with?
Achilles International, Angels in Disguise, and Waterstep. We work together with the residents St. Vincent de Paul to accomplish great things through running and walking, Yoga, education, and personal relationships. runPossible doesn't turn people into great athletes, it starts a self-transformation process, initiated by physical movement, that aids in the development of life changing friendships and self-confidence.
Every Tuesday we meet for a walk/jog at 6:15pm and on Thursdays an 11am recovery themed Yoga class hosted by the 502 Power Yoga crew! Both at 1029 s Preston street in the SVDP community Development center Like us n Facebook @ https://www.facebook.com/runpossibleLOUISVILLE
Does Sweaty Sheep have a central location?
The world is our playground…      We are in the midst of launching Sweaty Sheep Santa Cruz (and would love your participation in its formation).  In Louisville we work alongside of St. Vincent DePaul with our runPossible program and our monthly services are often in Cherokee park.  Keep up to date on both programs via Facebook:  Louisville and California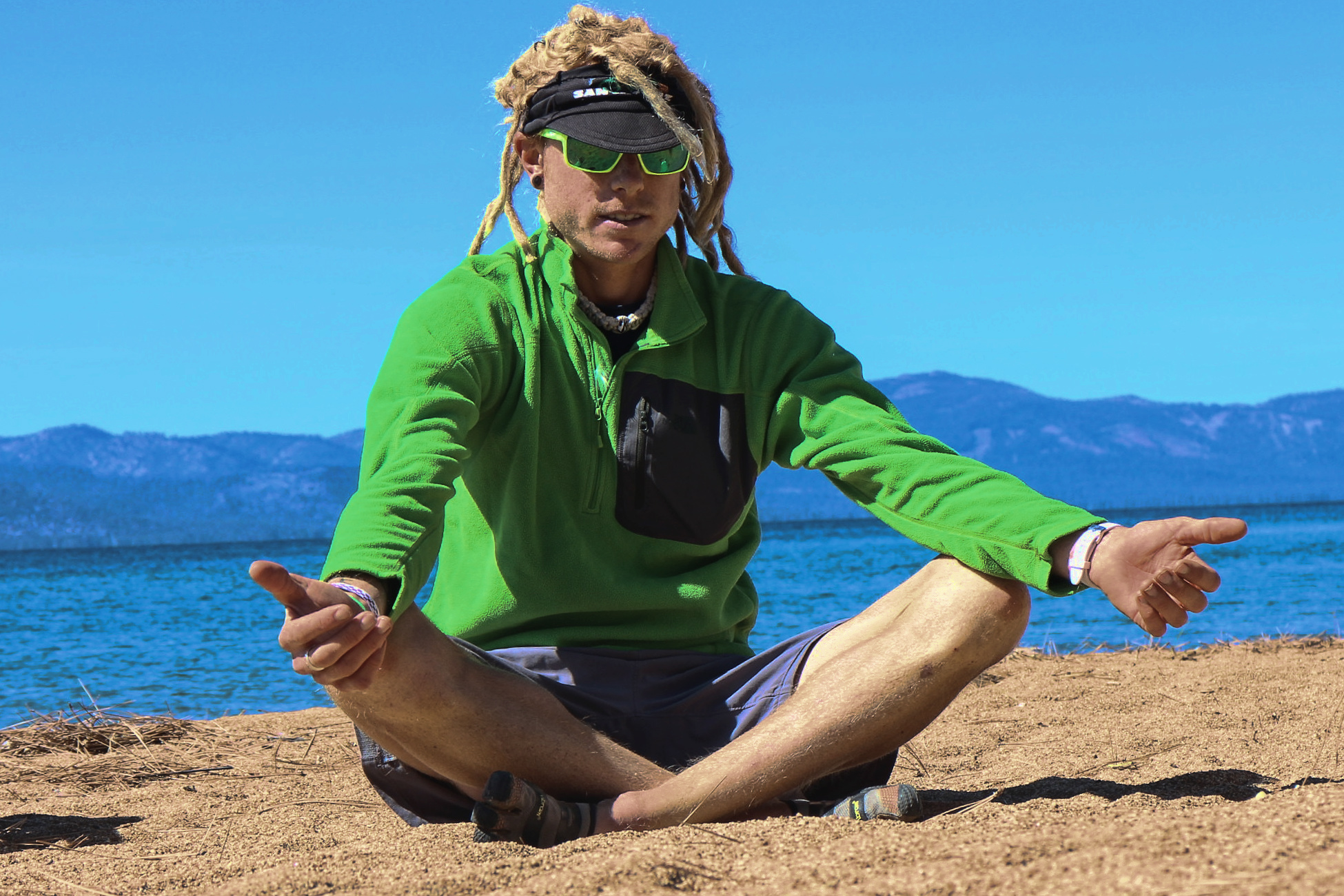 Ryan Althaus
Ryan, an East Coast transplant from Annapolis Maryland, graduated from Carson Newman College with dual BAs in English Education and Theology before receiving a Masters in Divinity in 2010 from Louisville Presbyterian where he received the institution's Presidential Preaching and Homiletics award. During his final year of seminary, Ryan launched "Sweaty Sheep Ministries" which spawned two additional nonprofit outreach athletic training programs for the disadvantaged and inspired his going back to academia for a second Masters in nonprofit business from Spalding University. Ryan moved to California to serve as the interim Director for the Homeless Garden Project (www.homelessgardenproject.org.) After getting the organization named a national PCUSA hunger mission site, Ryan took on the role of San Jose Hunger Advocate while simultaneously launching the second chapter of Sweaty Sheep Ministries. Initially founded in Louisville, KY, the group unites around a mission to utilize recreation as a means of breaking down economic, faith, or social barriers in the creation and evolution of a holistic community. Sweaty Sheep embraces and cultivates existential faith experiences to promote deliberate discipleship, add value to religious ritual, enhance community relationships, and encourage growth beyond embedded, prescriptive, or passive faith practices. This work has lead him to join in the creation of a team campus ministry effort at the University of Santa Cruz where he is an active member of the UCSC interfaith Council and become a board member of the Santa Cruz Association of Faith Community rotating shelter program. Ryan lives a modest life along with his K9 companion, Chewbacca, in accordance with the "New Monastic movement," a spiritual practice emphasizing one's detachment from unnecessary stresses of society so to become more deeply intertwined in the workings of one's organic community. Thus he happily resides in a 80 sq foot TV-free tiny home and spends most his time on a surfboard, on a sailboat, or volunteering throughout the community pursuing his passion for cross socio-economic relationships that dignify and empower 'houseless' neighbors as core community members. This work spawned the newest Sweaty Sheep initiative, "God's Garden," an innovative homeless community re-integration program utilizing hydroponic produce gardens as a means of transitioning despondent neighbors from charitable recipients to valued producers.
Lacey Latimer
Lacey leads our Louisville chapter and has a passion for nutrition, community, and wellness. She is a registered dietician and fitness instructor with a passionate and openminded faith perspective and cannot wait to meet you!
Alex Becker
Slow runner (and proud of it!), Team Sweaty Sheep assistant, and pastor of Langcliffe Presbyterian Church in Avoca, PA.
Elijah Cooper
Elijah Cooper: Elijah ended up in Santa Cruz on an extended vacation from the East Coast. He drove his VW van out here from Lake Placid, NY 2 years ago and now considers this his home. Elijah spent some time traveling, climbing, hiking, and biking around the country before attending undergraduate school in Colorado. There he majored in being a "ski bum" until going back to the Adirondacks and graduating from Plattsburgh State University. After graduating he started a non-profit organization in Lake Placid that opened the park up to many activities for people that needed assistance. As his passion grew for helping people, he attended graduate school at Cortland State University, and received his Masters degree in Recreation Therapy. He is now a Certified Therapeutic Recreation Specialist and outdoor guide that gets to play outside for work. He loves the California lifestyle and is a great addition to our team. We are lucky to have him on board.